■Company information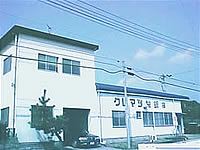 Our target
As a pioneer company in the production of cutting blades, we make every effort to manufacture better products in response to our customer's requests by developing cutting techniques.
Our business (Main products)
For metal cutting:

Extra hard metallic chip saw
H.S.S. metallic saw
Roll cutter nonferrous metals, food, chemical products, paper, rubber products etc.

Round blade: Slitter

Cutting blade: Knife
Company Policy
We have reliable manufacturing systems and specialize mainly in round blades for metal cutting.
We have a system to respond to a high-mix low-volume production in line with the current demands.
We have a heat treatment technique for high speed steels for 550Π outside diameter.
We have considerable experience and performance history in cutting materials that are usually difficult to cut such as; stainless, heat treated steels, etc.
We continually stock cutting blades for HSS, special steels and SUS in order to respond to the customer's requests immediately.
Name of the company:
Kurematsu Kikoh Co.,Ltd.
President:
Mikio Kurematsu
Capital:
10,000,000 yen
Established:
May 1971
Address of the headoffice :
3724-1, Asaba, Fukuroi-shi, Shizuoka-ken,
437-1101, Japan
Tel:
0538-23-2397
Fax:
0538-23-2354
E-mail:
For general information, dealers and customer support

URL:
http://www.kurematsu.com/
If you have any questions about this website or our products, please send an e-mail to: Contact us