■Product information:
Slitter blade & Round blade
These blades are most appropriate for cutting chemical products such as urethane rubber, plastic, or food such as meat, fish meat, vegetables, and natural materials such as paper, cloth, wood, etc. Although it is commonly a round blade, we can manufacture an irregular shape blade if required by you. Please contact us for details. We offer other various shaped blades such as single and double edged blades, blade with a slit, wave shaped blade, scallop shaped blade and square blade. Please find one that suits your cutting requirements.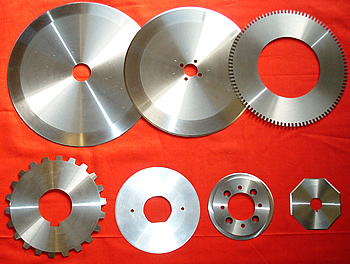 Material

Hardness(HRC)

Maximum dia.

Carbon steel
SK-5
48~52
610(700)
Alloy tool steel
SKS-5,SKS51
50~54
610
Alloy tool steel (special steel)
SK-2,SKS-7
57~60
610
High Speed Steel
SKH-51
63~66
540
Stainless steel
SUS440C
56~59
540